So this week, President Trump decided that he was going to go all Jack Bauer on us, and revoke 100,000 visas. You read that right. ONE HUNDRED THOUSAND. After his 'Muslim ban', that number of visas were revoked because of his travel restrictions, imposed on seven Muslim-majority countries. Now as we can all imagine, Americans weren't having it, and there proceeded the protests. This is why America is the land of the brave and the free, cause they fight when they know they are being mistreated!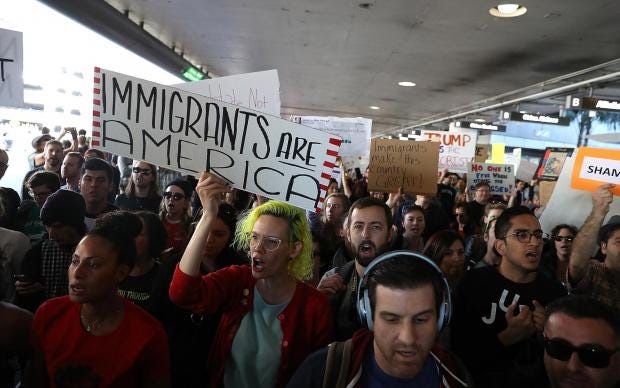 I am loving the lady with the green/yellow hair, she just doesn't care what you and I think of her.
But wait, there's more. Apparently, Pakistan is next on the list if they don't get their act together, and combat their homegrown terrorist attacks. So while the executive order was being signed, people who had flown in from said countries, were detained at airports and questioned. Some were even sent back home. An Iraqi woman who had fled ISIS, was barred from boarding a flight to reunite with her husband,who had found asylum in America. This saga just gets crazier, and we are all waiting, but terrified to see what will happen next.
But, moving on to happier news……
Congratulations to my fave, Beyonce. May your pregnancy be painless, and bring joy to you and Shawn. And also little Blue Ivy. I heard you still desire to headline Coachella this year, so no comment my dear. I'm trying to keep the peace, I don't need the Beyhive angry at me. Not today Satan, NOT TODAY!
Last but not least, bad news for all of you Internet Movie Database(IMDB) posters. The site announced that they will be closing down the message boards on the 20th of this month. Now, as a long time lurker on the site, I want to say that I'm so disappointed that they are getting rid of the best thing about IMDB. It's not the reviews, or the ratings, but the discussions, that make the site interesting. I always look forward to reading what people have to say about some of last year's tragic films like Suicide Squad(which was still a fun film) and Batman V Superman:Dawn of Justice(God bless Ben Affleck). The topics are hilarious, and they make me smile even when I'm feeling down. I wish someone could start a petition, because I can't live without those forums. Well, I can, I'm just being melodramatic as usual.
So if you want to continue reading those hilarious threads on IMDB, start a petition on change.org. You're welcome!